Menu

= You are Here

Welcome
90 Years Ago
Acquisitions
Books by Members


Bulletin Board
Calendar
Donations
Do You Know Me?
History
History Board-New Blog
History Mysteries
Images from our Past
Membership & Donations
Membership for Businesses
Memorial
Mission, Officers & Trustees
On Sale Now
Photos of Events
Recent Acquisitions & Historical Donations
Resources - Genealogy
Flyers-Upcoming Events

Tour the House
The Meeting Room
The Dining Room (Schrade Room)
The Front Hall
The Living Room (Embler-Hill)
The Stairs
Large Upstairs Bedroom
Small Upstairs Bedroom

Events
Photos of Recent Events

Local History Day & Resources 2006 Special Vet's Day Program
2008-Walden in the Civil War
2009-Virtual Cemetery Tour
2010-Local Genealogy
2011-Author: Lisa Melville
2012-Civil War: Walden,CO. H
Washington Post article: Co H-2014
2013-Textile Industry in Walden
2014-Knifetown USA: Part I-
The New York Knife Company
2015-Old House Superstitions &
Treasures: Concealment Shoes
2016-Knifetown USA:
Parts II & III-
-Walden Knife Company &
-Schrade Cutlery
2017-Mail Call: Letters from War

Care to submit info/comment?
Please visit our Blog
or visit us on Facebook






Visit our town:
www.villageofwalden.org

History Links:
American Memory Project
Cornell's Making of America
History of Orange County

Local History Book Publisher Sites
Black Dome Press
Hope Farm Press
Purple Mountain Press
Native settlements sprinkled the banks of the Wallkill River and shared this scenic spot atop a 40-foot waterfall with our early ancestors. Your family history, if you were born in this historic area, more than likely melts into one of the long lines of many early immigrant settlers.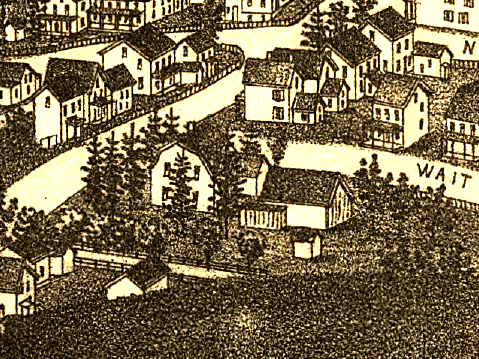 The Jacob T. Walden House as pictured in an 1887 close-up of Montgomery & Wait Streets from a panoramic map of Walden, NY
-- Source: Library of Congress site -- full 1887 Walden, NY Map (updated 7-27-19)
The house built around 1768 is a fine example of Hudson Valley Dutch Colonial architecture. It is constructed of cut stone and has walls about 2 feet thick, which is indicated by the depth of the window sills. The house is situated on land that was originally part of the Gatehouse patent land grant. It is believed that Samuel Erwin and his heirs enlarged the original home by adding this stone structure to a smaller frame house that no longer exists.

In 1813, wealthy New York City shipping merchant, Jacob Treadwell Walden, purchased a home from the heirs of Samuel Erwin, (during the time the village was called Kidd Town) and moved his family here. He built textile mills powered by the Wallkill River and Falls. He also purchased many plots of land near the falls on both sides of the river. The Jacob T. Walden house is located on North Montgomery Street, out of view but well within earshot of the raging "High Falls." The village was officially renamed for him in 1855.

This stone house is made from local shale and limestone blocks and still has the original Dutch double front door. It became one of the first Walden structures to be proudly named to the New York State and National Register of Historic Places. The Walden House is now the home of the Historical Society of Walden and Wallkill Valley.

1958
2007
The Historical Society of Walden & the Wallkill Valley owns and maintains the historic home that Mr. Walden referred to as "Old Hearthstone." It is as we feel Mr.Walden might have furnished his home when he moved here from New York City, but none of the furnishings* in the house belonged to the Walden family. (One item in the collection is flagged as possibly being from Mr. Walden's home--but the source is not documented.)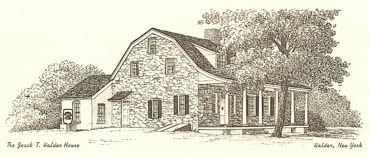 A more recent view of the side of the house as it looks today.