Visit us on Facebook!
In the Walden village square near the present Civil War monument.
Is anyone able to identify the uniform and year? Trustee Mickey Millspaugh suggests it may be the Bradley Guard. Best guess is that it is after 1904. View larger image PDF

A ladies hatpin (over 6" length) monogrammed.
Anyone know whose initials these might be? Part of an older Victorian collection.

Walden High School Ring - Class of 1923
This ring was found some years ago and donated to the Historical Society.
We would like to know who it belonged to although probably too late to find out...
---

Walden High School Patch--but what was the sport or club? Anyone know the year(s)?
---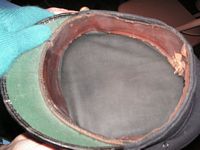 To what Walden uniform and year does this hat belong?
This mystery has been partially solved--
we have a photo of a Walden Band Member wearing this or a similar hat--
We would like to know more: does anyone know the year,
or the range of years this uniform hat was worn?
---
We would love to hear from you--e-mail: hswwv@adprose.org